How to choose the right M12 connector
In addition to being relatively small and providing IP67 protection (when properly tightened), one of the main reasons the M12 has been so successful comes down to those coded keyways that help prevent accidental cross-connection of different signal types. Note that some connectors are also designed specifically for data and others for power. 
There are currently more than twenty different types of M12 connector coding identifiable by an alphabetical letter from A to Y. However, connectors coded A, B, C, D and X are the most frequently used. The first four are part of the original M12 connector types that can be used for the majority of applications, coding, signal and power (or supply). While X-coded cables have become more popular due to the high-speed Ethernet industries. 
As it can become complicated to find the right connector when the time comes to make a choice for your various applications and in order to help you demystify them, here are some indications that may be useful during your next search.
Here are a few points to consider when choosing an M12 connector in addition to the different types of coding. First, make sure that the coding you choose meets your specific needs. In order to minimize errors, many manufacturers not only apply the different coding, but also assign different colors to the connector and the cable itself. This allows users to distinguish between the different types of coding available. Then you can determine how many pins or poles you will need in your initial configuration, but also whether your connector should be straight or angled. It is also worth noting that most M12 connectors have a male and a female side. 
The last thing to consider is the material that your connector will be made of, so that it can ensure that the transmission of power, your data or your signal is protected and maintained within the environment of the cable. Factors to consider are; dirt, dust and liquids, chemicals, vibrations, mechanical stress, twisting, bending, tension and compression. In short, you need to make sure that your cable can withstand the harsh or extreme conditions you plan to use it in, but also that your connector is designed to provide the same level of protection. 
Here are some types of materials that can be found on the market today:
PVC thermoplastic (TP)
IP rating : IP65/IP67 
This material is ideal for industrial control systems that are relatively clean and not exposed to extreme temperature variations. It is economical and can be used on a wide range of applications. It is also available in a wide variety of colors.
PUR Polyurethane 
IP rating : IP65/IP67 
If there is a risk of exposure to natural elements, this material may be the best choice. It can withstand constant bending and abrasion. It is also available without halogen.  
Thermoplastic elastomer (TPE) 
A stronger material, it is designed to withstand the elements and offers protection from chemicals and welding sparks. It cannot be stretched or twisted without damage and is resistant to oil and low temperatures.
Cable ducts (PLTE/TC-ER)
IP rating : IP65/IP67 
Usually arranged in series with other cables, cable ducts protect against natural elements, chemicals and welding sparks. 
Shielding 
IP rating : IP65/IP67/IP68/IP69K 
This material is recommended where there is a possibility of exposure to vibration and extreme temperatures in harsh environments. It is effective in protecting against oil and gas as well as drilling activities. It can also be used against signal interference in noisy environments. This makes it ideal for sensors and data transfer. 
Cleaning cords 
IP rating : IP65/IP67/IP68/IP69K 
The cleaning cords are very well suited for harsh environments such as those involving food and beverages and are extremely resistant to cleaning agents and chemicals. The material is also capable of withstanding extreme temperatures or pressures. 
Torsion cable (class 6)
Used in industrial environments and often attached to moving parts on robots, machines and power lines. Torsion cables are very flexible and offer a wide variety of protective sheaths to allow for use in environments where the cable will be moving. 
And now, here is a short description of the most used M12 connectors on the market today.
The A-coded connectors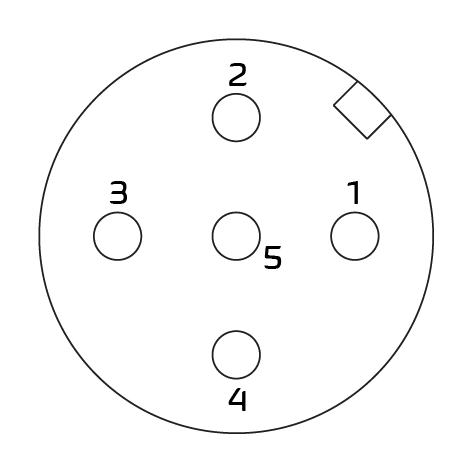 A-coded connectors are currently the most widely used in the industry. Available from 3 to 17 poles, they are mainly used for signal transmission, DC power and some data applications. They are used on sensors, actuators, peripherals, I/O modules and many IO-Link devices. They can also be used to connect inputs and outputs.
Power supply: Data
2 to 17 poles 
Mainly used with sensors or actuators and commonly used for DeviceNet, IO-Link and Profibus. 
The B-coded connectors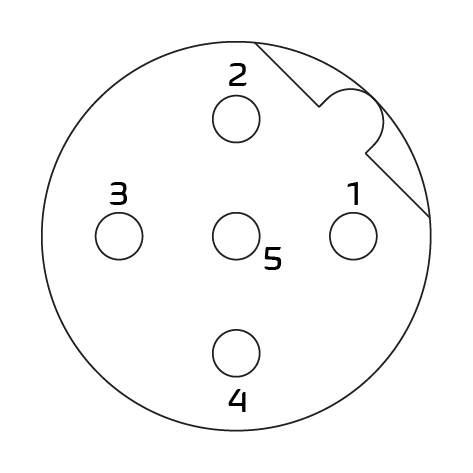 B-coded connectors are not widely used in North America, but more commonly in Europe. They are mainly used on older control or PLC systems or on Profibus and Interbus fieldbuses. They can be equipped with 2, 4 or 5 poles. 
Power supply: Data
5 poles
Opposite the A-coded connectors, the B-coded connectors are used for DeviceNet, Profibus and Interbus systems. 
The C-coded connectors 
C-coded connectors are also less commonly used on common applications. They can have 3 to 6 poles and can be used on 120VAC powered sensors, actuators and AC control systems. Note that this connector prevents the integration of an A-coded M12 connector. 
Power supply: CA 
3 to 6 poles. 
Double slot coding mainly used with AC sensors and actuators. They can be replaced by S-connectors. 
The coded connectors D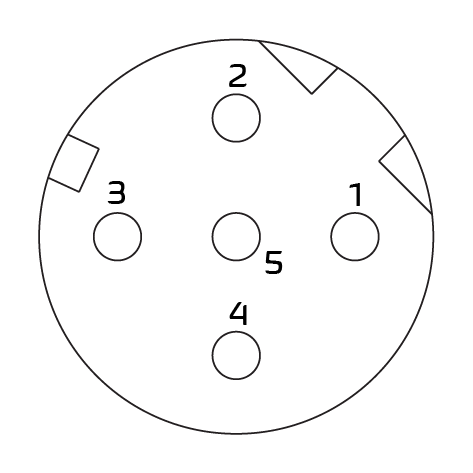 D-coded connectors are the most commonly used for connecting field devices to industrial networks, Ethernet, ProfiNet, EtherCat and CAT5e industrial cables. This connector is only available in a 4-pole version. 
Power supply: Data
4 poles 
An excellent choice for Industrial Ethernet, Profinet, Ethernet/IP and EtherCat. 
X-coded connectors 
X-coded connectors have been designed to meet the high-speed requirements of modern industrial networks. Capable of data transmission rates of up to 10 Gbit/s, they are easily identified by the galvanic separation plates that isolate the wire pairs forming an X. They are equipped with 8 poles and require IP67 protection. 
Power supply: Data
8 poles 
Used in robust Industrial Ethernet applications with 10 GB speed. 
In short: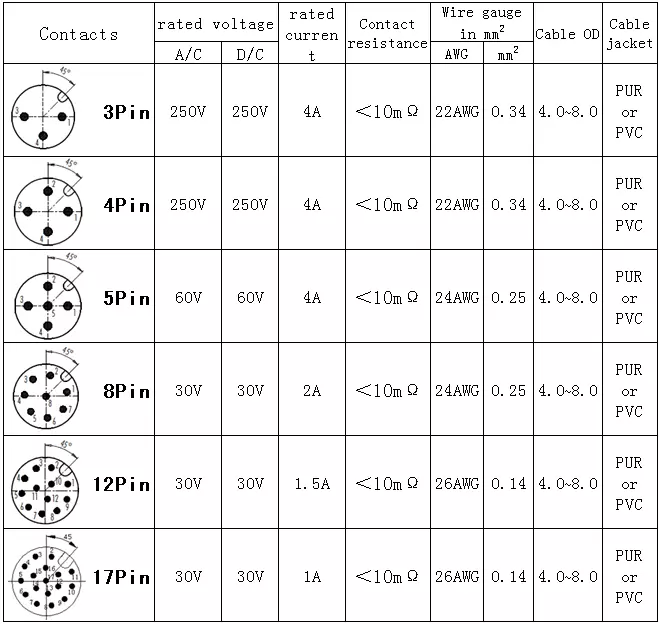 In conclusion, it may seem difficult at first to choose your M12 connector, but the table above can easily summarize the essential points to remember. You can also obtain more information on our different types of connectors or get advice on them at any time by contacting one of our representatives. They will be happy to find the best possible solutions for all your applications!
Blog posts
Is preventive maintenance important for your company?
Is the management or the implementation of a preventive maintenance plan within your company a necessity? What can it be used for and, above all, what are the benefits of its implementation? These are all questions that we will answer in this...