Programmable incremental encoder EB200E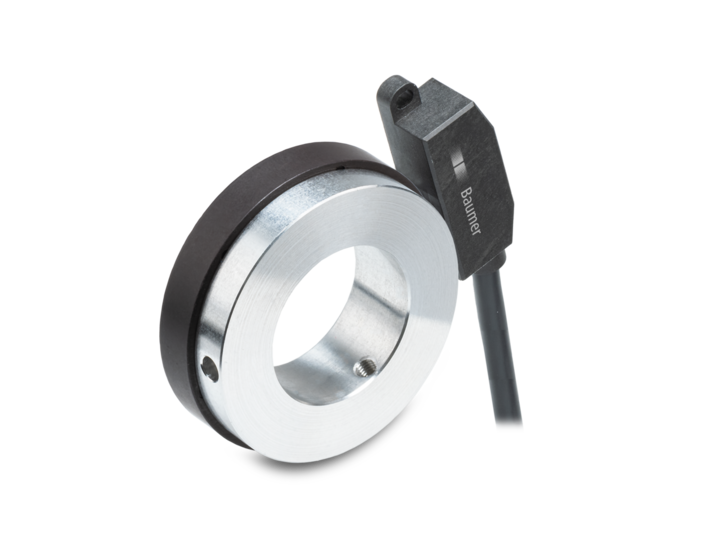 With the EB200E, Baumer offers a solution that convincingly meets these challenges: As a non-bearing encoder, it offers significant advantages thanks to its compact design, easy adaptation and non-contact operation, and reduces wear and costs. In addition, with its intelligent functions, including support via IO-Link, it offers optimal conditions for automation, communication and networking in machine building or industrial applications.
This encoder with magnetic sensing allows the use of large distances between the sensing technology and the standard (usually a magnetic ring or a central magnet). This means that they can be structurally separated from each other and that the precision ball bearings usually used with encoders can be dispensed with.
The mounting tolerances are relatively high and flexible. In addition, the elimination of the bearings means that there is no trace of the usual wear and tear. As a result, the encoders are insensitive to dust, dirt, textile fibers, wave flows or bearing loads and are also resistant to vibration and shock.
The Baumer EB200E is robust, adaptable and easy to integrate. Its non-contact scanning function with a read head and a magnetic ring on the shaft helps to reduce maintenance costs. In addition, the magnetic scanning of the bearingless encoder is not affected by dirt, dust and moisture, which reduces costs.
The encoder can be used in 3 different ways:
Simple to install, hardware and wiring costs are reduced by the ability to connect multiple encoders to the PLC via IO-Link with up to eight ports. The signals from the encoder are transmitted via the fieldbus directly to the PLC or to the cloud. In addition, the IO-Link functionality allows for additional data collection such as temperature, operating hours, as well as direct actuator control via the DualChannel output. Three configurable switched signal channels are also available to monitor machine speed, direction of rotation and stop.
It is also possible to use the EB200E as an incremental encoder. It can be easily parameterized to access the intelligent functions of the encoder. Indeed, the encoder can cover different resolutions up to 4096 steps per revolution. The fact that this is possible with only one rotary encoder, instead of several, ensures reduced storage and fast availability, and therefore short delivery times.
It can also be very advantageous to use it when monitoring speed, as it allows users to make a simple configuration in a short time. It is able to monitor overspeed, speed range, stop and direction of rotation, using two independent output switching signals. No additional hardware is required for speed monitoring.
The advantages at a glance
1. Compact machine design
Low installation depth of only 12 mm due to radial sensing
Flexible integration for shaft diameters up to 48 mm
2. Permanent and reliable operation even under extreme conditions
Wear-free and non-contact magnetic sensing
Insensitive to dirt
Vibration and shock resistant
3. Cost-effective electrical integration with IO-Link
No PLC counter module required
Use of standard IO-Link cables
PROFINET or Ethernet/IP via IO-Link Master for up to eight encoders
4. New possibilities for commissioning, service and maintenance
Easy parameterization with Baumer Sensor Suite
Reduced inventory management
Wear-free design minimizes downtime
Additional data via IO-Link
5. Easy upgrade of existing applications
Simple monitoring of existing processes with parameterizable Speed Monitor without additional components
For example, monitoring of the conveyor belt overspeed or the fan speed range
Applications
Baumer's EB200E encoders can be used in the fields of textile machinery, drives, intralogistics or AGVs as well as in wood processing, hoists, conveyor belts and technology.
For more information on Baumer products or to discuss one of your optimization projects, please contact one of our representatives. They will be able to advise you on possible applications for your company or project.
Blog posts
Is preventive maintenance important for your company?
Is the management or the implementation of a preventive maintenance plan within your company a necessity? What can it be used for and, above all, what are the benefits of its implementation? These are all questions that we will answer in this...